SoPo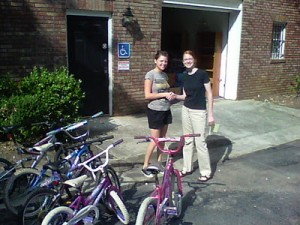 always wants to work with other charities and non-profits to get more people biking. In January 2011 we started a program where SoPo would make a donation of bikes to an organization and we named it Charity Bikes. We contribute anywhere from 5-10 bikes a month. All bikes will be built up or fixed by SoPo volunteers and made ready to ride.
How can you help? You can help in several different ways.
1. Every fourth Saturday of the month from 10am to 2pm is our Charity Bikes fix-it day. We will be at the shop fixing bikes so they are ready to be donated for the following month. If you have some bike mechanic skills please help out. And if you don't, this is a great time to learn and donate to a good cause.
2. Donate to Charity Bikes. Charity Bikes needs bikes. Charity Bikes needs parts. Charity Bikes needs accessories. You can donate monetarily so Charity Bikes can purchase items needed for the program to bring bikes to working order. For instance, there are some bike parts that need to be purchased, like friction shifters. Also we would like to provide locks and bike lights with each bike donation. You can donate the money to purchase these items or donate the items themselves. Here's a PayPal link to help or stop by the shop and say this donation is for the Charity Bikes program.
3. If you are a non-profit or charitable organization or you know of one that would like bikes donated to them, let us know. We are looking for donation sites and organizations we can work with to build a partnership. Send an email to info@sopobikes.org with the subject 'Charity Bikes'. Let us know who the organization is, what will the organization do with the bikes, and a contact person.
All Charity Bike donations are posted to the SoPo blog. SoPo is committed to community outreach beyond the shop and be a service to our community. We want to build relationships with other charities and non-profits.
We are really proud of this program and its reach. We want to grow this program so if you can help or want more information, let us know! E-mail us at info@sopobikes.org.