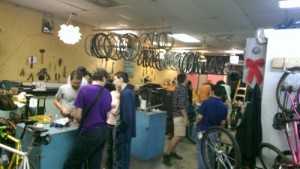 Sopo is open to the public onTuesdays, Wednesdays, and Thursdays from 7 pm until 10 pm, and on Saturdays from 2 pm until 6 pm. Open Shop Hours provide our community with a people's bicycle repair shop.
Sopo hosts Women's and Trans only bicycle maintenance classes & open shop hours. Happens every Sunday from 6- 9 PM facilitated by female bike mechanics just for the you!
Bike There! bicycle parking installs bicycle parking racks around Atlanta in conjunction with the Atlanta Bicycle Coalition.
Sopo makes bicycle donations to Atlanta-area organizations through our Charity Bikes program.