Atlanta has some unique bicycle parking.  These are two of my personal favorites, both hailing from Avondale Estates.
This one is outside Pallookaville, the best corndog joint this side of the midway.  The rack features an ice cream cone, fries, milkshake, and of course, a corndog.  I believe an employee custom made it.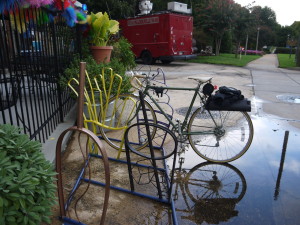 This rack is outside Second Life Thrift Store, a thrift store that helps local animal rescue.  This rack offers up a nontraditional answer to the age old question, "what do I do with all these extra golf clubs and skis?"
Is your business or organization in need of bike parking?  We offer it!  Check out our program here or contact us at info@sopobikes.org.