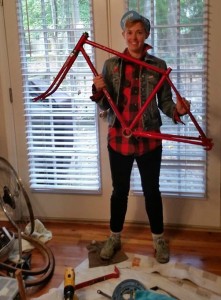 Sopo is very pleased to announce the hiring of our new Volunteer Coordinator, Emma Miller!
Emma grew up in the Atlanta area and has recently returned after spending several years in Nashville where she was the city's first wedding planner to cater exclusively and openly to LGBT couples.  Since her return to Atlanta, Emma has been an active member of the cycling community.
The the coming weeks, we will be hosting a happy hour where volunteers and community members can hang out and meet her.
More about Emma:
Favorite place to ride: Anywhere in the city, late at night — the whole world just opens up!
Favorite thing about bikes: The independence they offer. It's such an intimate form of transportation, there's great freedom and connection to your surroundings and other people.