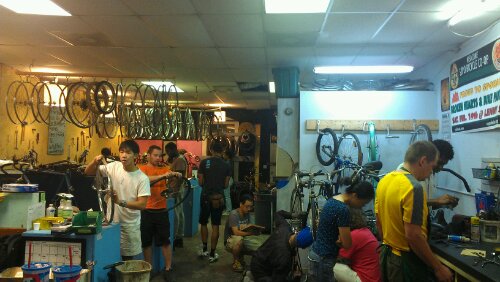 Interested in Volunteering! Apply HERE!

Sopo runs on volunteer power, and we always need more volunteers. Volunteer Orientation is held on the fourth Monday of the month at 7 pm at the shop. It's absolutely free (please RSVP). We also ask that you come back to shadow a current volunteer shortly after getting oriented. Volunteer orientation will show you where everything is in the shop, how things operate, and how you can help keep the shop atmosphere totally positive.

Meetings and Organizational Development!
Sopo belongs to the community, and the community is invited to participate in any organizational development meetings. General meetings are held on the third Monday of the month at 7 pm at Sopo. Pizza provided!
Volunteer outside of shop Hours!
Sopo can be found everywhere in the community, tabling, checking over people's bikes, and holding maintenance workshops.
Click here
to view Sopo's "extra-curricular" volunteer opportunities and register to help out.
Learning How to Fix Bikes!
The best way to learn your way around bike repair is to learn how to maintain your own bike. Bring it up to the shop and we'll get you started. If you do well with manuals and pictures, we've got that at the shop for you. If you learn by doing after you watch someone else, we'll have a volunteer help you. And if you learn by being in the right environment, come on down and hang out. There are plenty of ways to contribute to the shop that will help you learn that won't require you to know a whole lot before you get started.