Team SopoCross made its debut at the second race of the Georgia Cyclocross season at Jim Miller Park in Marietta and managed to come out relatively unscathed. Family Day was this past Sunday at the shop, and Team SopoCross had its own family day at the races. Super cool and Super cute.
Joey arrived early to scope things out, and upon completion of his practice lap, he made it clear to his family that he stood an excellent chance of being seriously injured. Shortly thereafter, a fellow spandex-clad racer approached. "Center-pull brakes, down tube shifters. That looks like a Sopo Special," he said. "Yup. I took off the rack and threw on some knobbies, so now it's a cross bike," Joey replied. "Nice," said the other racer, "might want to re-think the hundred-year-old brake pads, though." He left before Joey was able to tell him that the pads were, in fact, only a month old.
After registering and donning his Team Sopo race kit, Corny began his warm-up lap, 15 minutes before the start of the race. 100 yards into his warm-up, Corny flatted and rolled his tire. The tube snapped, and wrapped around the front hub. On his way back, trying to think of what he could do to start his 1st race, Corny ran into OG Kyle of the ATLX crew and asked him for a front wheel. He had a spare to lend, so Corny's race was saved.
Meanwhile, Joey opted for a last-minute change from tennis shoes to a borrowed pair of mountain bike shoes (thanks, Corny). Since the tread on the shoes prohibited easy entry into toe clips and straps, and since he had never attempted an easy ride down the block – let alone a race involving high-speed dismounts in the presence of others – in clipless pedals, he opted to remove the clips and ride the race on platforms. In the confusion of stripping the clips off of his bike and trying to adjust to the new setup, Joey managed to inadvertently start the race with the Masters CX4 group rather than the CX 4 group with which he registered.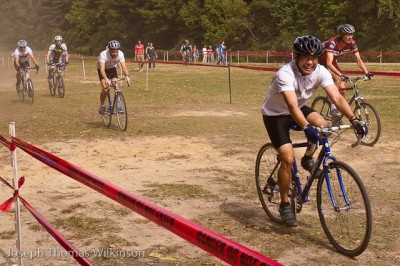 The race itself was run in its entirety in a thick cloud of dust, and featured lots of high-fiving by Corny and even more bouncing and flailing of the feet by Joey. Much fun was had, and some good heckling was overheard. (Heckling is encouraged in cyclocross.) And despite his conspicuous absence from the official race results, Joey's OK, and he did finish the race. (Well, this didn't actually happen to Joey, but back at the ATLX tent they told me Joey was OK.)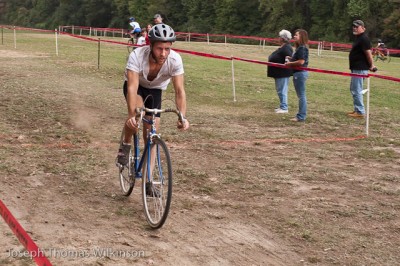 30 minutes before the second race, a fellow rider said to Corny, "You're racing the next race? Dressed like that?" A few minutes later, someone mistakenly took Corny's helmet, forcing him to scramble around asking other racers for a loaner. Amy with ATLX offered hers, but it was too small for Corny's enormous head. The folks at the FreeFlite tent came up with one that was still small but at least for Corny race-legal. At the start line, Corny's helmet passes by on the head of Mike, the mechanic at Peachtree Bikes. After a quick helmet exchange, Corny's race was, again, saved.
The single speed race was much like the first race – dusty and full of high-fives. Afterwards, Corny was greeted by another racer with "I wasn't going to let someone in khakis beat me," which prompted him to award himself First in Pants, since no one else in the single speed race raced in pants and a collared shirt.
If we didn't have fun, it wouldn't be SoPo. If things went smoothly, it wouldn't be SoPo. If there weren't high-fives, it wouldn't be SoPo.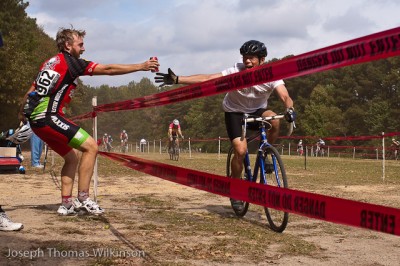 A lot of thanks go out to our fans and supporters. Fallen Arrows for the jerseys. The ATLX crew for everything they did. Thanks to our pit crew and photogs Meme, Lindsay, Sofy, Dirk, and Deborah.
Pictures of the races are on the Georgia Cyclocross series website, and here is a video of the course we raced on, shot by another first-timer.
All Photo Credits to Lindsay and Joseph Wilkinson.
Recap write-up credit also to Joseph Wilkinson.