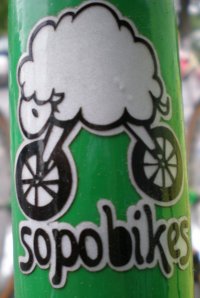 What is Sopo Bicycle Cooperative?
Sopo Bicycle Cooperative is a nonprofit tax-exempt 501(c)3 charitable organization that facilitates the collective ownership and operation of a community bicycle repair shop. In other words, together, we run a community bike repair shop, and you are invited to help out, pitch in, and use it.
What is Sopo's mission?
Our mission is to create equitable access to cycling by providing affordable bicycle maintenance services and education.
Where is the shop?
The shop is located at 222 Flat Shoals Ave. SE, Atlanta, GA, 30316.
We are near the corner of Memorial & Moreland in the Reynoldstown neighborhood. Bus route 21 runs nearby along Memorial.
What are the shop hours?
Our shop hours are 7pm to 10pm on Tuesday, Wednesday, and Thursday; 2pm to 6pm on Saturday.
What is the suggested donation structure?
We suggest $5 per hour for use of tools, grease, degreaser, and other shared items, and $5 per part. Donations are not limited to cash. Work-trade and donated services are welcome. No one is turned away for lack of cash or resources.
Can I buy a bike from Sopo?
Well, yes you can but you may have to finish fixing it. We have a limited number of bikes for sale. They may need some fixing. The price of the bike includes shop time and parts. We'll also help you and share our bike fixing knowledge as you complete the work on your own bike.
What can I do at Sopo?
You can fix your bike. Don't worry, we'll help. You can also volunteer.
Will someone at Sopo fix my bike for me?
Because we are dedicated to education and empowerment, we will help you fix your bike. We will put the tools in your hands and guide you along.
Does Sopo operate like Decatur Yellow Bikes?
No. Decatur Yellow Bikes used an Adopt-a-Bike method of distribution: you visit their shop, pick out a bike, they fix it, you take it home. Sopo is a repair shop where you come with your bike and fix it yourself. We will help you, but you will do the work.
Can I convert my bike into a single speed or fixie at Sopo?
Sure, but track parts are rarely donated to the shop. Sopo volunteers will also insist upon safe conversions (no suicide hubs, etc). See Sheldon Brown for more information on SS/Fixie conversions.
Where can I get a cheap bicycle in Atlanta?
If you have the time and interest, you can build up an inexpensive bicycle. The best place to start is at Sopo, asking questions about what to look for at thrift stores, yard sales, and auctions; and on eBay and Craigs List. The most difficult part will be finding a frame that is your size, in the style you like, and in good condition. After you accomplish this, you will probably be able to find most parts at Sopo. You will most likely need to purchase wheels if your frame does not come with a good set or any at all. Rumor has it that OTP thrift stores are a good place to find bikes. Avoid department store bikes since they are not built to be maintained. Do not be afraid to meet a seller at a for profit bicycle shop to have the bike looked over before you make your purchase.
Other related things to consider:
It is a good idea to spend a little extra money on a part that will make your ride safer. For example, if we recommend that you get new wheels, it is for a good reason. Also, you will save a lot of money by replacing car trips with bicycle trips. If you factor in the amount of money you will save over the course of three or six months, you might find that you can increase your bicycle budget by quite a bit. Finally, if you spend a little extra on better quality parts, you will opt to ride your bicycle more often. Your bicycle should feel good to ride, and you should look good on it.
How do I become a member of Sopo?
Anyone who uses the shop is a member of the Sopo community. Community members are encouraged to use the shop and are welcome to attend general meetings. If you would like to held out at the shop and be able to vote on issues at meetings, you must be a volunteer.
What's with the sheep logo?
Sheep's gotta bike too.
Is Sopo a bicycle gang?
No. We are a community of people who really like bicycles. A lot.
I'm new to cycling. What kind of bike should I get?
It depends. What type of riding you want to do and how much money you have to spend? You are welcome to stop by the Sopo shop and talk with some experienced cyclists. We come from a variety of cycling backgrounds, and we have good things to say about all kinds of bikes. You can also drop by any bike retailer and test ride different models to see what's out there in the world of new bikes.
Who's in charge here anyway?
No one is solely "in charge" because we all share the responsibility of running the shop. If you need information, look for someone wearing a volunteer badge that says "Ask Me." Also, there is a volunteer shop manager for each shop session. If you are interested in helping us run the organization, join us for our next Volunteer Orientation and drop by our next general meeting.
Would a cash or bicycle donation be tax deductible?
Yes. You may write your donation off on your personal income tax return. We can email you a thank you note/receipt with our tax ID number confirming your donation.
How Can I Donate Bikes and Parts to Sopo?
We'd love for you to stop by during our open shop hour to make your donation! However, if you can't make it, we have a network of area bicycle shops who collect donations on our behalf.
How do I start a community bicycle repair shop in my hometown?
To get a sense of how we took an idea and turned it into a nonprofit organization, read our history and watch our documentary. Then check out the resources we've been compiling on Bike Collective Network. Read through the Bike Collective Starter Kit. Start fixing bikes for free with people, making friends, and filing your nonprofit/501(c)3 paperwork. Find an accountant or lawyer in your community who will help you. Get a bank account at your local credit union. Write a mission statement that you can fall back on when things become unclear. Unless you run a mobile shop, start looking for a space.
A lot of things need to happen, and it will take a while. It is probable that you have all of the resources you need already right there in your community. Start reaching out, be open to other people's input, and learn everything you can.
Do you take bicycle donations?
We take bicycle donations. We take bicycle parts donations. We take donations of anything bicycle related (bike racks, carriers, clothing, accesories, etc.). If its bike related, we'll take it.. Please drop your donation by during our regularly scheduled hours.
Also here is our wish list of items you can donate.
How do I become a volunteer?
First, you must participate in our Volunteer Orientation, which is held on the fourth Monday of the month at 7 pm at the shop (it usually lasts until about 9 pm). The purpose of Volunteer Orientation is to acquaint you with the shop, how the shop works, and how anyone at all can help us keep the shop running safely and smoothly. You don't need any prior bike maintenance knowledge. You can do a lot just by being a friendly person who can point a shop user in the right direction. After all, the purpose of the shop is to get people to learn things for themselves.
The best way to get up to speed on the bike repair end is to practice. You can come to Volunteer Night and work on your bike, you can learn along with the person you're helping, and you can come to our semi-regular bike repair classes (usually the first Monday of the month at 7 pm at the shop).
Volunteers are expected to help out during at least two shop sessions per month. Volunteers are encouraged to come to general meetings (you are entiteld to vote on issues!). To apply to be a volunteer, go HERE.
Do you have ________ part or frame in stock?
Maybe. You have to come look. We run on donations, which are pretty random, so our stock of items changes daily.
What are the shop rules?
The rules are pretty easy, but we will ask you to leave if you can't abide. Sopo is meant to be a safe space for all kinds of people, so that's why these are the rules:
Be nice. – We're all here because we want to be. There's no reason to not be nice to someone in the shop.
Be chill. – Keep it mellow. This is a learning environment.
Clean up after yourself. – We're all in this together.
Do not take tools out of anyone's hands. – Let people do their own work.
Keep it rated "G." – No cursing, flirting, boozing, or being rude.
Don't be a jerk. – See 1 through 5 for clarification.