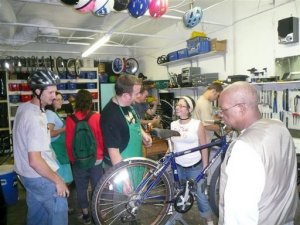 Sopo Bicycle Cooperative is a non-profit, community-based bicycle repair shop in Atlanta, GA that makes transportation affordable, accessible, and sustainable.
We do this by providing bicycle maintenance services and education during open shop hours, and through our special programs.
Outlook
We are committed to making our shop a safe and neutral community space where all people are welcomed and encouraged to learn, share, and turn wrenches. Our shop outlook is:
Each one teach one.
Right tool for the right job.
Bicycles make the world a better place.
How the Shop Works
During General Shop Hours, people come to..
fix their own bicycles,
help others,
donate materials,
meet new people,
and get tips on how to cycle safely around Atlanta.
No experience? No problem! Our volunteers are here to help you. Want to become a volunteer?
Our Suggested Donation Structure is
$5 per part, and
$5 per hour for use of tools and shop supplies.
Donations do not have to take the form of money. Volunteer time at the shop, items from our wish list, etc. count just the same. But still, no one will be turned away due to inability to make a donation. See "Pricing" for more information.
We are a 501(c)3 organization. Your generous donations to Sopo are tax deductible.*
Location and Hours of Operation
The shop is located at 222 Flat Shoals Ave near the corner of Memorial & Moreland in the Reynoldstown neighborhood, and is open to the public on Tuesday, Wednesday, and Thursday nights from 7:00 pm until 10:00 pm, and on Saturday afternoons from 2:00 pm until 6:00 pm.
For more information about having fun in the shop, check out our Frequently Asked Questions.
* Donations made for parts and services are not tax deductible